Colette - Vocals

Colette is no stranger to the stage. She was the female vocalist for the melodic hip hop project, Mean Ol Lion. This song bird mixed her technique in opera and passion for R&B on such tracks as "We Pounce", "Tigerlily" and "Flower Arrangements" off  Mean Ol Lion's self titled L.P. She had the honor of debuting her self written track "Charmed" as the opener for Lyrics Born. 
Having shifted gears to sing lead with Vinyl Replay, this petite spitfire pulls the audience in with her stage presence and multiple octave set of pipes. She is stoked to channel her inner Pat Benatar and belt out memorable 80s rock tunes. If you are a sucker for a short, tight dress, sparkly eye shadow and a killer performance, Colette is one rocker chic you don't want to miss!
Veronica - Vocals
Veronica completes the "new Kidz in America"' prolific front-line of pro vocalists for Vinyl Replay.  The former Miss Little Newark discovered her killer sultry seductive voice and passion in the 10th grade when her school accidentally registered her for choir instead of PE.  She loves belting out songs in her car and at karaoke, Veronica is excited to rock it out for real with the ever-so-talented team that make up  the entertainment magic of Vinyl Replay.  Come witness her dynamic, hypnotically stunning performance live!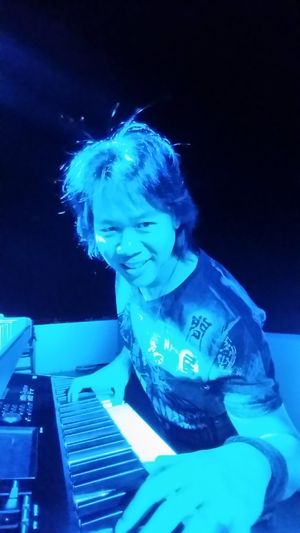 Sheldon was raised on a lean diet of classical music starting at age 7, when his mom bribed him to take acoustic piano lessons with the promise of an electric piano.  His keyboard affinity didn't  take hold until  listening to the theme from Midnight Express, when he was permanently seduced by the power of analog synthesizers. He lied, cheated, and stole for a Minimoog in high school.  His rock and roll roots included numerous bands, most prominently Body Eclectic, which toured A circuit clubs throughout the late 80s and 90s.  More recently, Sheldon played for Crush, a tribute to Bon Jovi, Tony Ortiz Live, Red Sector A, Rock of Ages and appearances with Rocksteady.
Todd - Lead Guitar

Todd is an original member of Vinyl Reply. He has been playing lead guitar for 38 years. He grew up with these great songs.